Doctors & Staff
Meet the experienced and friendly doctors and staff who make Syracuse Family Eyecare the leading provider of vision care products and services in Syracuse.
---
Tiffany Walters, O.D.
Dr. Walters graduated from Syracuse High School and attended Nebraska Wesleyan University from which she graduated in 2005 with a Bachelor of Science degree in Biochemistry and Molecular Biology. In 2009, Dr. Walters graduated Summa Cum Laude from Southern College of Optometry in Memphis, TN. During her schooling she obtained extensive training in primary care optometry including, contact lenses, diabetic eye disease, glaucoma, macular degeneration and cataracts.
Dr. Walters purchased the clinic in September 2011, and she is excited to provide high quality eye care to the people of Syracuse and surrounding communities.
Outside the office, Dr. Walters enjoys spending time with her husband, Travis, their twin boys, Jaxen and Graysen and youngest son, Drake. She enjoys playing volleyball and spending time outdoors.
---
Jennifer- Office manager/Optician
Jennifer is a native of Massachusetts. She has lived in the Syracuse area since 1995, and graduated from Syracuse High School. Jenn has sixteen years experience in the medical field, and has been in optometry since 2010.
Her current residency is in Syracuse with her husband, Adam and four children: Scott, Lorelei, Miriam, and Lincoln.
Away from the office Jenn enjoys spending time with her family, attending ball games/activities, movie nights, the outdoors, motorcycle rides with her husband, and time with her friends.
---
Nicky- Front Desk/Insurance Billing
Nicky graduated from Weeping Water High School. She has been a resident of Syracuse since 1990. Nicky has over twelve years experience in the insurance industry and prior to working in optometry, she operated an in-home daycare.
She shares her current residency with her husband of over 20 years, Chris. Nicky has one daughter, Amanda and one grandson, Dalton.
These grandparents love to spoil Dalton every chance they get.
When not in the office, Nicky enjoys spending time with family and friends, whether it's at the campgrounds or on the golf course.
---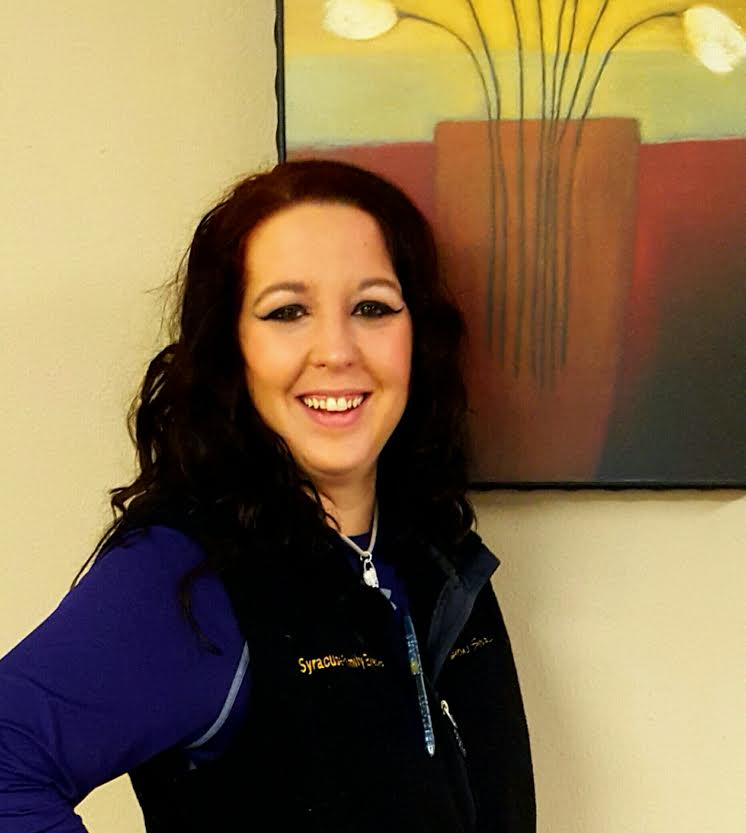 Rynn- Optician
Rynn originates from Sidney, IA. She moved to Nebraska City in 2001. Graduated from Victory Life Christian school in 2002. She attended Iowa Western Community College from 2008-2011 earning her degree as an LPN. Rynn joined Syracuse Family Eyecare in early 2015.
She currently resides in Nebraska City with her husband, Shawn and three boys, Jordan, Hunter and Brayden.
Outside the office, Rynn enjoys spending time with her family and friends. Her favorite hobbies are rebuilding classic cars and reading.